Foreign Secretary answers Middle East foreign policy questions on Twitter
Foreign Secretary William Hague answered questions about the UK's policies on Syria, Lebanon and the Middle East Peace Process as part of his visit to Damascus.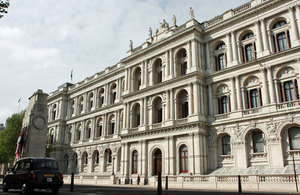 The following questions were put to the Foreign Secretary @WilliamJHague by using the hashtag #fsinsyria.
Q. @Kingsmurfy: @WilliamJHague does the UK consider Hizbollah a terrorist organization. Also, how do we make sure aid is kept out the hands of such groups
A. @Kingsmurfy Hezbollah's military wing is banned in the UK as a terrorist group. We take great care that UK aid does not go near such groups
Q. @Juillesim: @WilliamJHague Can the UK government help achieve peace in Palestine while maintaining their traditional bias towards Israel? #fsinsyria
A. @Juillesim We support the legitimate aspirations of both Israelis & Palestinians. Both deserve a better future #fsinsyria
Q. @johnfdrake: @WilliamJHague what relationship do you envisage the UK having with Hizbullah especially after the appointment of Mikati as PM? #fsinsyria
A. @johnfdrake We don't talk to Hezbollah. We will judge the new gov on its policies, actions & its support from the Lebanese people #fsinsyria
Q. @sirandytaylor: @WilliamJHague What is the Brit Gvt's position on Israel's blockade of Gaza? If against, will any action against Israel be taken? #fsinsyria
A. @sirandytaylor Israel has a right to security. But blockade of Gaza is counterproductive & should be lifted #fsinsyria
Q. @OMalleyAndrew: @WilliamJHague Where does Syria stand on the STL, and it's expected conclusions? #fsinsyria
A. @OMalleyAndrew I can't speak for #Syria. But people of #Lebanon need to see justice done and #STL work completed #fsinsyria
Q. @HowieShawki: @WilliamJHague #fsinsyria has there been any changes to conservative fp in mideast since the coalition was formed?
A. @HowieShawki I have said for years that Britain needs closer ties with the #MiddleEast. Labour neglected ties with Gulf states in particular
Q. @BoardofDeputies: Will @williamjhague ask the Syrian govt, whose capital hosts Hamas military HQ, to work towards the release of Gilad Shalit? #fsinsyria
A. @BoardofDeputies I met Gilad's parents in Israel. Everyone who can help bring Gilad home should do so #fsinsyria
Q. @sayedkadiri: Does the Prime Minister envisage having a meeting with President Assad in London or Damascus in the near future? #fsinsyria
A. @sayedkadiri Not on the agenda at this stage. But I am pleased to have begun a good dialogue with #Syria #fsinsyria
Q. ACarlyBBoys: @WilliamJHague What impact do you see Robert Ford having on US-Syria relations in the foreseeable future? #fsinsyria
A. @CarlyBBoys Good that both our countries are speaking to #Syria about problems in the Middle East #fsinsyria
**
Q. @cherylbaker: @foreignoffice @williamjhague the best thing for peace is for Mubarak - a dictator of 30 years to leave. Democracy doesn't exist for Egypt**
A. @cherylbaker We can't choose other countries' leaders. But demands for more open societies should be heard #fsinsyria #Egypt
Q. @dezwog: @WilliamJHague How can the UK ensure Syria respects Lebanese sovereignty and stop weapon trafficing to Hezbollah? #fsinsyria #ujscampaigns
A. @dezwog We can't. But military buildup of Hezbollah is dangerous for all countries of the region #fsinsyria
**
Q. AMaroqui: @WilliamJHague Will you be addressing the plight of Haitham al-Maleh & Mohannad al-Hassani? http://goo.gl/aJWkn #fsinsyria #syria**
A. @Maroqui I did raise human rights cases & we will continue to do so as part of our dialogue with #Syria #fsinsyria
Q. @aliceejohnson: Does the UK government think it's a good idea to abandon the #STL for the sake of Lebanese stability? #fsinsyria
A. @aliceejohnson No. Lack of justice is more dangerous for long term stability & not in interests of Lebanese people #fsinsyria #Lebanon
Q. @CorinneDoff: @ukinsyria and @williamjhague regarding #fsinsyria. Will anything be done to change unfair and inconsistent travel advice for Yemen?
A. @CorinneDoff @ukinsyria Travel advice is designed to help to keep British citizens overseas as safe as possible #fsinsyria
**
Q. @TajaddodYouth: @WilliamJHague Please raise the issue of the 100s of Lebanese political detainees in Syrian jails. #humanrights #fsinsyria**
A.@TajaddodYouth I raised human rights, political freedom & the #STL today. I strongly support the STL completing its work #fsinsyria
Q. @helen_symons: @WilliamJHague Please raise the issue of the 100s of Lebanese political detainees in Syrian jails. #humanrights #fsinsyria
A. @helen_symons We support Lebanese sovereignty & a government that does indeed support peace & justice in #Lebanon #fsinsyria
Q. @edwebb: @WilliamJHague #fsinsyria should the US engage more seriously/openly with Syria? What steps, if any, can/does HMG take to bring this about?
A. @edwebb This is up to the US but the UK believes frank dialogue with #Syria is important #fsinsyria
Q. @tonystephen: @williamjhague #fsinsyria How does the UK support justice and stability in Lebanon?
A. @tonystephen Through our diplomacy and by giving support to Lebanese institutions #fsinsyria #Lebanon
Q. @nightfox_04: @WilliamJHague what role can business play in resolving unrest in the Middle East? Business based approach to fp + development?#fsinsyria
A. @nightfox_04 Business links are part of important web of connections between peoples & societies. So do have a role to play #fsinsyria
Q. @ChristianJMay @WilliamJHague Will you urge the Syrian regime to release its grip on the internet and to stop arresting bloggers? #fsinsyria
A. @ChristianJMay I certainly think it is a mistake to try to suppress social media or other forms of expression #fsinsyria
Published 27 January 2011