Foreign Secretary announces the UK is to open two new diplomatic posts in India
Foreign Secretary William Hague has announced that the UK will open two Deputy High Commissions in Hyderabad and Chandigarh, bringing the number of UK posts in India to seven.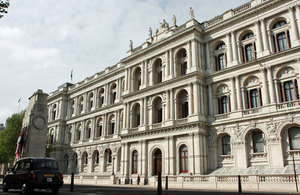 The Foreign Secretary made the announcement in Parliament on 16 May:
"Given the growing importance of our relations with India, I can announce today that we have secured the agreement of the Indian Government to open two new Deputy High Commissions in the dynamic and important cities of Hyderabad and Chandigarh.
"This will bring the number of our diplomatic posts in India to seven.
"It will mean that Britain will have the most extensive diplomatic network in India of any Diplomatic Service in the world.
"It will give us a deeper understanding of India at a time when its role in the world economy and on the world stage is growing as never before.
"It will help expand our trade and investment relationship by helping British companies, and it will deepen our political links with State leaders across India, and I hope the House will welcome this development."
Hyderabad is the capital of Andhra Pradesh, one of the fastest growing States in India. It is the 5th largest State by population with the 3rd highest GDP. It has become a magnet for foreign investment in recent years with global brands like Facebook and Google setting up their Indian operations there.
Chandigarh is the joint capital of the States of Punjab and Haryana, two of India's most prosperous States, with great business potential. Our new office will also be responsible for our relationship with the states of Himachal Pradesh, Uttaranchal and Rajasthan.
Published 16 May 2012