Foreign Secretary announces members of Human Rights Advisory Group
The Human Rights Advisory Group has been established to give the Foreign Secretary the best possible information about human rights challenges, and for the Foreign Office to benefit from outside advice on the conduct of its policy.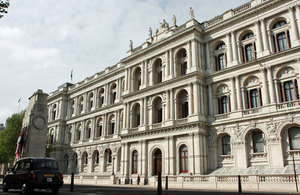 Foreign Secretary William Hague said:
"Human rights are essential to and indivisible from the UK's foreign policy priorities."
"The members of this group are eminent individuals with a broad range of human rights experience, drawn from NGOs, the legal and academic communities and international bodies. I am delighted that they have agreed to join this Group and look forward to working with them to improve and strengthen our international human rights work."
The invited individuals are:
• Kate Allen, Director of Amnesty International UK
• Dr Chaloka Beyani, LSE and UN Special Rapporteur on Internally Displaced People
• Dr Agnes Callamard, Director of Article 19
• Joel Edwards, International Director of Micha Challenge
• Malcolm Evans, University of Bristol, UK member of the United Nations Sub-committee on the Prevention of Torture
• Sapna Malik, Partner, Leigh Day and Co. Solicitors
• Professor Susan Marks, LSE
• Tim Otty QC, Blackstone Chambers
• Tom Porteous, Director of Human Rights Watch, London
• Sir Nigel Rodley, University of Essex, Member of the UN Human Rights Committee
• Dame Barbara Stocking, Chief Executive of Oxfam GB
• Professor Surya Subedi, University of Leeds and UN Special Rapporteur for Cambodia
• Sir Nicholas Young, Chief Executive, the British Red Cross
The individuals have been invited in a personal capacity, to provide external advice on human rights in foreign policy, and on options for addressing human rights problems.
The Group will be chaired by the Foreign Secretary and will hold two meetings a year. It will meet for the first time on 2 December. Junior ministers and Foreign Office officials will also chair additional meetings on key issues agreed by the Group.
The Foreign Secretary announced the formation of the Advisory Group in his 15 September speech entitled "Britain's Values in a networked world".
Published 11 November 2010