Foreign Secretary announces Foreign Office programme spending for 2011-12
Foreign Secretary William Hague has updated Parliament on plans to align programme spend with the Foreign Office priorities.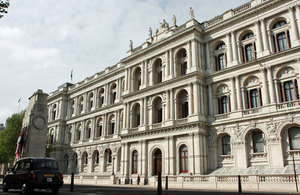 In a written statement to Parliament the Foreign Secretary said:
In my statement to the House of 29 June 2010, I informed the House of the outcome of my review of how the Foreign and Commonwealth Office will spend its programme funding in this financial year. I am now in a position to announce decisions about programme spending for the next financial year 2011/12.
The Foreign Office's priorities are to safeguard Britain's national security, build British prosperity and support British nationals around the world.
The review we have conducted will ensure that FCO programme spending is aligned with our priorities and contributes to the development of Britain's diplomatic influence and the promotion of our values. We must ensure the money is spent effectively and supports the Government's commitment to spend 0.7% of GNI as Official Development Assistance (ODA) by 2013.
As a result of the review the FCO will change the way it manages its programme spending. We will give British Ambassadors greater responsibility for deciding how best to spend their local budgets to support UK foreign policy objectives and strengthen bilateral relationships. We will reduce administrative spending and seek other cost savings. We will introduce new procedures to assess the impact of FCO programme spending worldwide.
For the 2011/12 financial year, we have decided to allocate:
£57 million for programmes dedicated to national security

£24 million for programmes to support UK prosperity, including through the promotion of a stable and open global economic environment which will help countries develop

£58.5 million for the support of democratic values, human rights and British diplomatic influence overseas.
This is a total of £139.5 million. I anticipate that in future years it will be necessary to make some reductions in these allocations in order to be able to continue to support our diplomatic network overseas, while achieving the savings we committed to making during the Comprehensive Spending Review.
Within the overall allocations set out above we have made a number of significant decisions on funding for individual programmes next year. On security, we will sustain spending on counter-terrorism and counter-proliferation at £38 million and £3 million respectively. We will provide £16 million for spending on counter-narcotics and rule of law programmes in Afghanistan. This represents a reduction of £2 million, which will be made possible without affecting the outcomes of our projects there, as several of them will reach the end of their capital investment stage. We will incorporate future spending on drugs and crime projects into the bilateral programmes managed by posts overseas, while provide a total of £2 million as a ring-fenced element within those budgets to be dedicated to projects on drugs and crime.
We will significantly increase spending on programmes to help countries develop and to support UK prosperity, bringing these to a total of £20 million. We will spend more on projects which promote openness, international trade and investment, transparent and stable regulatory environments and strengthen the multilateral trading system and international investment opportunities, while resisting protectionism, including creating a commercial diplomacy fund of £4 million dedicated to identifying and securing commercial opportunities for our businesses, and supporting inward investment to the UK. We will maintain current levels of spending on our successful programme which promotes the global transition to a low carbon economy, energy efficiency and security, and is intended to increase the prospects of reaching a global climate change agreement.
In terms of the promotion of our diplomatic influence and values, we will increase funding for bilateral programmes to £19 million, including a ring-fenced allocation for the Western Balkans and other non-EU countries in Europe. We will establish a new fund of £5 million to address, in partnership with regional governments, the long-term underlying governance and social, economic and political participation issues affecting the Arab world. We will increase spending in the support of the Overseas Territories to £7 million. We will sustain our spending on human rights and democracy at £5 million. We will slightly increase spending in support of the Westminster Foundation for Democracy to £3.5 million. We will dedicate £17 million to spending on scholarships while at the same time ensuring a greater proportion of that spending is in Commonwealth countries.
We will reduce spending on strategic communications by one third to £2 million, targeting spending on activities and initiatives which actively support FCO priorities, and spend a greater proportion of this funding in posts overseas.
I will provide the House with details of programme spending for future years in due course together with further information about how we will ensure that these funds provide the best possible value for the public money.
Published 1 February 2011