Foreign Secretary announces change to travel advice for Libya
Foreign Secretary William Hague has announced changes to the Libya travel advice in light of the improving security situation.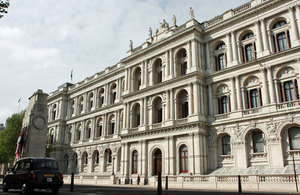 Speaking today the Foreign Secretary said:
"Since 3 March, we have advised against all travel to Libya. However in light of the improving security situation on the ground I have decided to change our travel advice to advise against all but essential travel to Zuwarah, Az Zawiyah, Tripoli, al Khums, Zlitan and Misratah, and the coastal towns from Ras Lanuf to the Egyptian Border, including Benghazi. We still advise against all travel to all other areas of Libya.
"Our travel advice is kept under constant review and the safety of British Nationals remains our priority. Any British National thinking of travelling to Libya should take care and check our travel advice regularly. It is also important to note that the UK Mission in Tripoli is only able to provide very limited consular assistance at this time, but we do plan to deploy additional staff when the situation allows."
The Foreign Secretary made the announcement while visiting Libya with the Prime Minister for talks with the National Transitional Council.
Published 15 September 2011