Foreign Secretary announces additional assistance for British nationals in Libya
Foreign Secretary William Hague said the safety of British nationals in Libya is of paramount concern.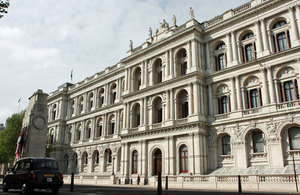 Speaking today the Foreign Secretary said:
"We are shocked and appalled by the levels of violence unleashed by the Libyan government in recent days. The situation in Libya is worsening and remains highly unpredictable. The UK supports the UN High Commissioner for Human Rights in calling for a full and transparent investigation into reports of attacks on Libyan citizens. We will continue to press for access for human rights monitors. We will also raise Libya in the UN Human Rights Council in Geneva. The Libyan Government is trying to stop the world seeing what is happening. But they should be held accountable for their actions."
"The safety of British nationals in Libya is of paramount concern. In light of the fluid and dangerous situation we are urgently reinforcing our team on the ground with specialist personnel to provide additional help and assistance to British nationals.
Already this week British Nationals seeking to leave Libya have encountered significant difficulties. Many are currently in Tripoli airport without immediate flights out of the country, following flight cancellations, closures of airspace and difficulties securing permits from the appropriate authorities. We are working closely with airlines to assist as many British nationals as possible to depart Libya. In addition, I have decided to mobilise further resources in support of an assisted departure:
first, we continue to work intensely with airlines and other countries in order to as assist as many British Nationals to leave as possible;
second, we are making arrangements for a charter plane to travel to Libya in the next 48 hours; we are urgently seeking landing clearances and permissions from the Libyan government; in support of this we will send a Rapid Deployment Team of FCO officials to assist British Nationals;
third, the Royal Navy Frigate HMS Cumberland is being redeployed from the Eastern Mediterranean to international waters near Libya so that it is pre-positioned in case it is required to play a role in assisting British Nationals, if needed.
As part of this effort, and in line with our travel advice, we will also assist some of our Embassy staff and their families who are not needed to deal directly with the current situation to leave Libya while sending additional specialised Foreign Office personnel trained in crisis response.
This situation is extremely fluid. We will provide further information regularly as the situation develops. British Nationals requiring assistance or further advice can call the Foreign Office on 020 7008 0000 from the UK or 021 3403644/45 from Libya.
I call on the Libyan authorities to protect the safety of all foreign nationals and provide necessary assistance to the British Government including providing the necessary permissions and clearances for our ship and aeroplane, in order to allow us to secure the safe departure of our citizens from Libya."
Published 22 February 2011