Foreign Secretary announces £5 million funding for Arab Partnership Initiative
The Arab Partnership Initiative will support economic and political development across the Middle East and North Africa over the next four years.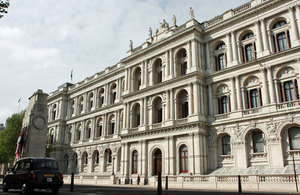 The funding for the initiative will help the UK work in partnership with regional governments and international partners to:
provide technical assistance to strengthen rule of law, access to justice and freedom of expression and building strong institutions to broaden political space;
capitalise on the British Council's reputation in the region to equip the region's youth with the professional skills to gain employment and encourage enterprise through more substantive and wider higher education links;
shape the regional debate about development of more open societies, to better inform the aims and process of political change in the region, through think-tanks and others;
harness the power of UK businesses and corporate social responsibility programmes to contribute to region's development.
The work will be closely co-ordinated with programmes including the European Neighbourhood Partnership Instrument, the US Government's Middle East Partnership Initiative, the G8-Broader Middle East & North Africa process, the work of IFIs and professional donor funds such as the Arab Fund for Social & Economic Development.
The Arab Partnership Initiative is specifically aimed at the Middle East. It supplements the work of the Department for International Development (DFID) in the region, as well as other global Foreign Office initiatives. FCO programme funding includes £24m to promote stable, open economies to help develop and support UK prosperity and £58.5m for the promotion of values, human rights and British diplomatic influence through strengthened bilateral relations. For further detail see the Written Ministerial Statement of 1 February.
The Arab Partnership Initiative has been developed over the last nine months as a response to the limited opportunities for political, social and economic participation in the Arab world that contribute to long-term instability and undermine security and prosperity. It builds on longstanding UK work in this area.
Published 8 February 2011