News story
Foreign Secretary and Baroness Warsi visit Bradford's newest mosque
Following today's first regional Cabinet meeting in Bradford, the Foreign Secretary and Baroness Warsi visited a new mosque in Horton Park and met with a group of business leaders and university students from Bradford's Muslim community.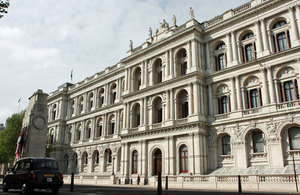 ATL Centre for Enterprise, Manningham, hosted an informal but lively discussion including the government's direction on foreign policy, an update from the Cabinet meeting and the Foreign Secretary's recent trip to Pakistan.
The Foreign Secretary and Baroness Warsi then went on to tour Bradford's newest mosque, in Horton Park. This is a major new mosque development which is nearing completion. The mosque has been under construction for the best part of ten years, much of the funding has been raised by the local Muslim community.
On touring the mosque the Foreign Secretary congratulated the members of Suffa Tul Islam organisation for the tremendous effort and community support that has come together to build this focal point of the community.
Published 30 June 2010