Foreign Secretary: "an open internet is the only way to support security and prosperity for all"
Foreign Secretary William Hague attended the Budapest Conference on Cyberspace and called for international consensus on cybercrime.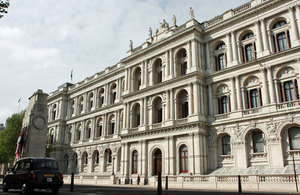 In his speech the Foreign Secretary:
made it clear that we need to preserve and expand the multiple benefits of the internet;

emphasised the importance of the internet in promoting freedom of speech, prosperity and innovation;

called for an international consensus to address some of the more negative aspects of the internet including cybercrime and state-sponsored cyber attacks.
The Foreign Secretary announced that the Government will be investing £2m a year in a new Centre for Global Cyber-Security Capacity Building in the United Kingdom. This centre will provide independent advice to countries on how to build a secure and resilient internet.
Francis Maude, who is attending in his capacity as UK Minister responsible for Cyber Security in the Cabinet Office, will give further details of the announcement later today.
While in Hungary the Foreign Secretary will hold bilateral meetings with Hungarian Prime Minister Orban and Foreign Minister Janos Martonyi.
Published 4 October 2012