Foreign policy aims highlighted in The Queen's speech to Parliament
Her Majesty The Queen set out the foreign policy areas of the Government's work in this Parliament during her speech on 9 May.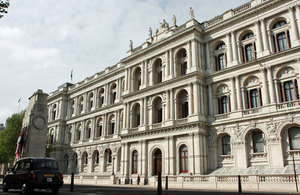 In the speech The Queen said that her government will seek the approval of the agreed financial stability mechanism within the euro area, and approval on the anticipated accession of Croatia to the EU.
She said that the Government will work to secure a secure and stable Afghanistan, to reduce the threat of nuclear proliferation, including in Iran, and to bring greater stability to the Horn of Africa.
Turning to situation in the Middle East and North Africa, she said that the Government "will support the extension of political and economic freedom in countries in transition".
The UK will assume the Presidency of the G8 in 2013. The Government plans to use the opportunity to promote international security and prosperity.
Published 9 May 2012