Press release
Foreign Office welcomes Kosovo Assembly's efforts to deal with the past
Minister for Europe welcomes a vote on constitutional amendments as Kosovo works to tackle impunity and strengthen the rule of law.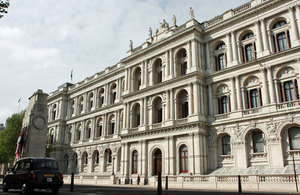 The Kosovo Assembly has voted through laws needed to establish a special court to investigate allegations of war crimes in Kosovo arising from the 1999 conflict. Kosovo has agreed to establish an international tribunal (the Special Court) to hear the cases, with the EU providing funding.
Minister for Europe David Lidington said:
I welcome the decision of the Kosovo Assembly to pass the constitutional amendments and laws needed to establish the Special Court.
This difficult and sensitive decision has demonstrated leadership and political courage. The Special Court will hear allegations of war crimes committed during the conflict in Kosovo. Its establishment will therefore mark an important step in Kosovo's efforts to tackle impunity and build the rule of law. It also shows the commitment of Kosovo's political leaders to implementing international agreements. The UK and others in the international community fully support them in their efforts, which are essential to Kosovo's development and its path towards European integration.
It is essential we work to end the culture of impunity wherever it remains. I am confident that the Assembly's decision on the Special Court will be an important part of Kosovo's efforts to deal with the past. This will complement other efforts to investigate crimes committed during the conflict, to ensure justice for the victims and a better future for Kosovo".
Further information
Follow Foreign Office Minister David Lidington on Twitter: @DLidington.
Follow the Foreign Office on Twitter.
Follow the Foreign Office on Facebook & Google+.
Published 3 August 2015