News story
Foreign Office urges British nationals to leave Benghazi
FCO Travel Advice urges British nationals to leave Benghazi in response to specific threat to Westerners.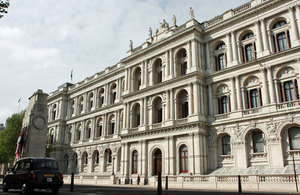 Since September 2012, the Foreign Office has clearly advised against all travel to Benghazi and all areas of Libya, with the exception of Tripoli, Zuwara, Az Zawiya, al Khums, Zlitan and Misrata, and the coastal towns from Ras Lanuf to the Egyptian Border.
We are now aware of a specific and imminent threat to Westerners in Benghazi, and urge any British nationals who remain there against our advice to leave immediately. We have updated our Travel Advice to reflect this. The British Embassy in Tripoli has been in contact with British Nationals for whom we have contact details to alert them to the Advice.
You can read the travel advice for Libya here.. We will keep our Travel Advice under constant review.
Further information
Get the latest FCO Travel Advice updates on Twitter and Facebook
Published 24 January 2013