Foreign Office update on help for British nationals in Libya
Three RAF Hercules evacuate 150 more civilians from locations in eastern Libyan desert.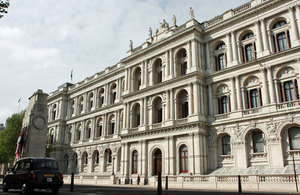 Update 19:50
Secretary of State for Defence, Dr Liam Fox, said:
"Three RAF C130 Hercules aircraft have successfully evacuated around a further 150 civilians from multiple locations in the eastern Libyan desert. The first and second aircraft have landed in Malta and the third is due to arrive shortly. The aircraft have picked up civilians from a number of nations including Britain.
HMS Cumberland has set sail for Malta after making a second visit to the port of Benghazi where she recovered around 200 civilians from various nations including around 50 British nationals.
HMS York has remained in the region and stands ready to assist as required."
Update at 15:00
Tripoli
The last FCO charter flight arrived at Gatwick airport at around 2200GMT on Saturday 26 February, carrying approximately 100 passengers. 58 of these are British Nationals.
In light of the deteriorating situation in Libya, and as our last FCO charter flight has now left Tripoli, we yesterday temporarily suspended the operations of the British Embassy in Tripoli. Staff left yesterday - some of them, with our Rapid Deployment Team from Tripoli airport, on that charter flight. Temporary consular arrangements are being put in place. The Turkish Government will now temporarily represent British interests in Libya. The British Pro Consul will remain in Tripoli and will work closely with the Turkish Embassy.
A number of other countries have already suspended the operation of their Missions in Tripoli, including the United States and Australia.
Benghazi
HMS Cumberland is currently in Benghazi and preparing to board. She will depart at dusk today to travel to Valletta, Malta. Sailing time will be at least 12 hours. Once disembarked at Malta, passengers will be met by a consular team and given assistance, before being flown home on a FCO charter flight tomorrow or Tuesday.
Malta
A charter flight departed Valletta at 1500 local time this afternoon to London Gatwick carrying 148 passengers, 79 of which were British Nationals. These are people who arrived in Malta from Libya yesterday or Friday, including those who left the desert areas in the Hercules C130s yesterday, and some from HMS Cumberland's first journey from Benghazi to Valletta. There is another Foreign Office charter on standby at Valletta to depart either later today or tomorrow.
Numbers left in Libya
We believe that the vast majority of British nationals who want to leave have now left Libya, through commercial means, Government charters and military evacuations. Small residue numbers remain. Where we identify those who want to leave we will take measures available to assist them.
If British Nationals have arrived in the UK, Malta or elsewhere from Libya we ask them to call the FCO to let us know they are safe. This will help us to ensure that our information is up to date.
Humanitarian effort
A Department for International Development (DfID) team in Egypt is en route to the Libyan border now in convoy with an Embassy team. Another DfID team is due to land in Tunis shortly and we are working to deploy them to the border with Libya also.
Reports from humanitarian experts in Eastern Libya indicate that food and medical supplies are available with markets open. Tens of thousands of people are leaving Libya through the Tunisian and Egyptian borders but reports so far are that these movements are orderly and are being well handled by the respective authorities. We remain very concerned about the humanitarian implications of the situation and are following developments closely.
Published 27 February 2011