Foreign Office update - Japanese earthquake
At 1446 hrs on Friday 11 March an earthquake with a magnitude of 8.9 struck 250 miles (400km) from Tokyo. There continues to be a risk of earthquakes, aftershocks and tsunamis.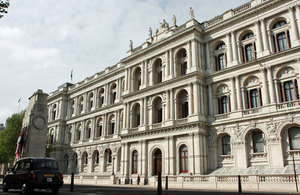 Government response
A British Search and Rescue Team are in Japan to aid the international relief effort. It comprises 63 UK fire service search and rescue specialists, two rescue dogs and a medical support team.
The British Ambassador and a team of consular staff are in Sendai to assess the level of damage and to help locate British nationals. They are currently visiting evacuation centres and hospitals.
Specialist UK consular teams have arrived in Japan from London and the region. 45 additional consular staff are being deployed. More teams are on standby. We are working with the Japanese authorities to establish whether any British nationals have been involved.
Embassy staff and British volunteers are helping to get information to our citizens about the situation, and working closely with Japanese officials. Embassy response teams at Tokyo's Haneda and Narita airports are assisting British nationals and liaising with airlines.
A dedicated crisis unit has been established in the Foreign Office and DFID have activated their humanitarian operations room. Our Embassy in Tokyo and Consulate in Osaka have been working around the clock.
Travel advice has been updated and recommends against all non-essential travel to Tokyo and North East Japan. Please keep checking our website.
The FCO's emergency helpline has taken more than 3,200 calls. There is currently no waiting time.
Nuclear
We continue to monitor reports from the Fukushima nuclear facility and all statements by the Japanese authorities, with the benefit of informed scientific and health advice in the UK. The Japanese authorities have confirmed that the situation remains serious, but that there is currently no significant off site release of radioactive material. There is a 20km exclusion zone around the facility, which we continue to urge British nationals to observe. This is consistent with the severity of the reported incident, with the independent information that we have, and with international practice. We will keep this under constant review.
Political
Foreign Office minister Jeremy Browne chaired a fourth COBR on Sunday morning to coordinate the cross-Government response.
The Foreign Secretary spoke again to the Japanese Foreign Minister on Saturday to discuss the latest situation and coordination with our Embassy in Tokyo. He expressed concern about the explosion this morning at Fukushima nuclear power station and offered UK help and expertise to the Japanese authorities if needed.
Casualties
This is a major disaster which will as a whole claim many lives and injure many others. There are no reports of British casualties at this time and we urge people to get in touch on our hotline number (020 7008 0000) to let us know of loved ones who are missing or known to be safe.
The immediate priority for the Japanese authorities is the emergency response. In these unpredictable circumstances, it is likely to take some time to formally identify those who may have lost their lives or been injured and to notify next of kin.
Published 13 March 2011