Foreign Office update - Japanese earthquake
The Foreign and Commonwealth Office continues to advise against all non-essential travel to Tokyo and the North East of Japan.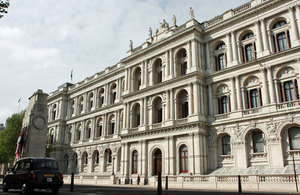 An earthquake measuring 8.9 on the Richter scale struck 250 miles (400km) from Tokyo at 1446 local time yesterday. There continues to be a risk of aftershock and tsunamis across the Pacific region. The Japanese authorities have issued a warning for people to stay away from low-lying coastal areas.
Infrastructure damage is widespread. North-eastern Japan has been hardest hit. Sendai airport is flooded. Over 7 million households are without electricity. 11 nuclear reactors at four different power stations have stopped operating in Miyagi and Fukushima where 2,000 residents have been urged to evacuate. There is severe disruption to public transport, airports and road networks across northern Japan.
Following a direct appeal from the Japanese Government earlier this morning, the British Government will dispatch a team of 59 UK fire service search and rescue specialists, two rescue dogs and a medical support team to join the international relief effort in Japan.
The team will fly from Manchester airport later this afternoon and travel directly to Japan as quickly as possible. On arrival tomorrow, they will immediately join the international search for survivors, providing support and relief for Japan's own rescue teams.
The team will take up to 11 tonnes of specialist rescue equipment, including heavy lifting and cutting equipment to save the lives of people who are trapped in the debris.
Japanese authorities have confirmed there was an explosion at the Fukushima nuclear facility and this was confirmed as chemical and not nuclear. Japanese authorities are reporting that there is no damage to the inner container and that radiation levels at the plant are falling. There is a 20km exclusion zone around the facility which we urge British Nationals to observe.
Casualties
This is a major disaster which will as a whole claim many lives and injure many others. There are no reports of British casualties at this time and we urge people to get in touch on our hotline number (020 7008 0000) to let us know of loved ones who are missing or known to be safe. The immediate priority for the Japanese authorities is the emergency response. In these unpredictable circumstances, it is likely to take some time to formally identify those who may have lost their lives or been injured and to notify next of kin.
British Government response
Political
Foreign Office Minister Jeremy Browne chaired a COBR meeting this morning where it was agreed a search and rescue team would be sent from the UK today to help the Japanese in the rescue effort.
The Foreign Secretary spoke again to the Japanese Foreign Minister this morning to discuss the latest situation and coordination with our Embassy in Tokyo. He expressed concern about the explosion at the nuclear power station and offered UK help and expertise to the Japanese authorities if needed.
Consular
The Foreign Office has established a crisis unit and set up a helpline for UK nationals in Japan and their relatives back home. That number is +44(0)207 008 0000. So far, we have taken more than 1200 phone calls.
We have sent an eight-strong specialist consular response team from Hong Kong to Japan, which will arrive in Tokyo today to supplement our Embassy staff.
We have also sent a ten strong specialist consular response team, including British Red Cross workers to Japan this morning. We have teams on standby in the United States as well.
Our Embassy and Consular staff across Japan are working closely with local authorities and are concentrating on making contact with British Nationals to provide consular assistance
Humanitarian
A DFID led search and rescue team will be leaving the UK today to assist with the rescue effort. They will include a medical team and search dogs. This was offered to the Japanese and our offer was taken up this morning now the situation is becoming clearer.
DFID activated their humanitarian operations room yesterday morning.
A team in DFID are monitoring the situation and are closely tracking data from the Pacific Tsunami Warning Centre in Hawaii and the US Geological Survey closely. We are in close contact with the Red Cross and UN OCHA, Japan, US, Australia and others in the region.
Published 12 March 2011