Foreign Office statement on Kimberley Process talks
Minister for Africa Henry Bellingham: "We will continue to work, including through the EU, to seek a solution to the current impasse over Zimbabwe diamonds."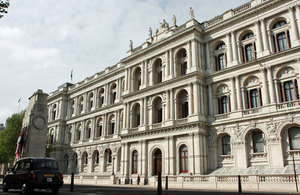 Minister for Africa Henry Bellingham, said:
"We are deeply concerned by the statement released by the Chair of the Kimberley Process which claims consensus agreement has been reached at the recent Kimberley Process meeting in Kinshasa to allow exports of diamonds from Zimbabwe's Marange region. This is not the case as the proposals fell well short of offering a credible mechanism for ensuring that only Kimberley Process compliant diamonds could be exported from Zimbabwe.
"We will continue to work, including through the EU, to seek a solution to the current impasse over Zimbabwe diamonds. We wish to see Zimbabwe trading Kimberley Process compliant diamonds to the benefit of its population but the Kimberley Process must remain a credible and effective mechanism. Any agreement must ensure Zimbabwe takes all necessary steps to comply with its Kimberley Process obligations."
Published 24 June 2011