Foreign Office statement on attack in Kenya
The Foreign Office has issued a statement on the attack on two British Nationals in a resort north of Lamu, Kenya.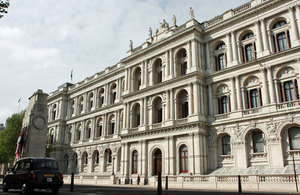 Speaking today a Foreign Office Spokesperson said:
"We can confirm that two British Nationals were attacked overnight at a beach resort north of Lamu, near the Kenya-Somalia border. One was killed and another kidnapped. We are working closely with the Kenyan authorities to establish further details.
"We have deployed a consular team from our High Commission in Nairobi and are offering all possible support to the family of those involved. Our thoughts are with them at this difficult time.
"We are working to secure the safe and swift release of the British National who has been kidnapped and ask those involved to show compassion and release the individual immediately."
Published 11 September 2011