Foreign Office staff mark World Day Against the Death Penalty
British embassies around the world marked 10 October 2010 as a global day of action against the death penalty. The UK Government has launched its strategy for Global Abolition.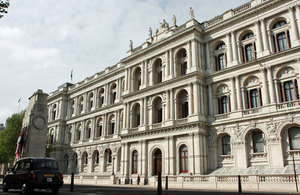 10 October marked the seventh anniversary of the World Day Against the Death Penalty and the third anniversary of the European Day Against the Death Penalty. British embassies from around the world have highlighted their work towards global abolition of the death penalty, profiling some of the successes in their countries and the issues they face.
Staff at the British Embassy in Minsk have been working with human rights defence organisations on a campaign against the death penalty in Belarus, the only European country to retain the practice. Internationally-acclaimed musician and activist Sting signed the petition organised by Viasna and Belarus Helsinki Committee, with Foreign Office Minister for Human Rights Jeremy Browne and British Ambassador to Belarus Rosemary Thomas adding their signatures on 11 October, following the launch of the UK's strategy for Global Abolition of the Death Penalty.
Ambassador to the Republic of Korea Martin Uden spoke at an event last week to mark World Day Against the Death Penalty, discussing the progress made on Korean human rights over the last 25 years. He applauded the cross-party efforts made by members of the National Assembly in his blog. In Tokyo, Ambassador David Warren wrote a blog marking the day, highlighting Minister Jeremy Browne's recent call on the then Justice Minister Ms Keiko Chiba to discuss her moves to set up a study panel on capital punishment. In Indonesia, Ambassador Martin Hatfull delivered a speech against the death penalty last week.
The British Embassy in Guatemala City is running a Human Rights Week, aimed at promoting its work in Guatemala, El Salvador and Honduras. The death penalty is a widely discussed topic in Guatemala - last week the country's Congress voted in favour of legislation that could open the door for Guatemala to start re-applying the death penalty. Monday activities focused on this, as highlighted by Ambassador Julie Chappell in her latest blog entry.
This week Ambassador to the Republic of Lebanon and Beirut Frances Guy participated in a seminar to commemorate the day. In her blog she talks of the difficulties of making abolition a priority when faced with so many other challenges and 313 other bills currently before parliament. Please visit our Human rights section for more on the Foreign Office's work on the death penalty.
Published 12 October 2010