Foreign Office staff blog for International Human Rights Day
Foreign Office staff from around the world have marked International Human Rights Day by blogging on a wide range of issues.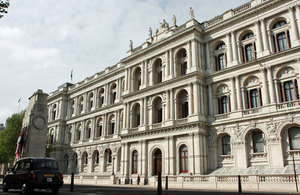 British Ambassador Leigh Turner blogged about human rights in Ukraine, and how the British Embassy has supported projects to help improve the Ukrainian judicial system.
John Jenkins said "human rights matters to everyone and we each have a duty to promote and protect them" in his blog as Ambassador in Baghdad, Iraq.
North Korean student Yu Woo-sung is using British Ambassador Martin Uden's blog to describe his life in North Korea and his decision to escape to seek a better life outside.
Human rights officer at the British Embassy in Manila gave a personal perspective of her childhood in the Philippines, growing up while martial law was declared.
In Japan, a country that still uses the death penalty, British Ambassador David Warren blogged about the debate developing in Japan about its use.
British Ambassador to Sweden Andrew Mitchell said 10 December is a day "to remind ourselves about the importance of these rights that we often take for granted, it is also a day to think about what we do help those people who are denied these rights" in his blog.
Published 10 December 2010