Foreign Office responds to International Rescue Corps press release
The British Embassy in Tokyo did everything they possibly could to assist the IRC in gaining the necessary clearances upon their arrival in Japan.'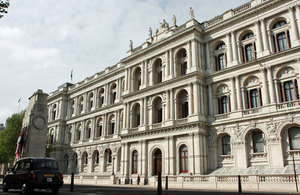 A Foreign Office spokesperson said:
"As we have repeatedly said, the British Embassy in Tokyo did everything they possibly could to assist the IRC in gaining the necessary clearances upon their arrival in Japan. The IRC only made us aware on the evening of March 15 that the Japanese Government required a formal letter of support from the British Embassy for a motorway pass.
The Embassy faxed a letter of support to the Japanese Government at approximately 0700 on March 16 and followed this up with phone calls. This was the earliest opportunity our Embassy had to write to the Japanese Government.
Overnight, they were leading an emergency response to search for British Nationals in Tohoku. Our Embassy's top priority in a crisis will always be providing support for our citizens.
"We also totally reject the allegation that the Government misled Parliament. All of the Government's statements on this matter have been drawn from official reporting from the British Embassy in Tokyo."
Published 17 March 2011