Press release
Foreign Office responds to Hong Kong reform plans
The Foreign and Commonwealth Office has responded to China's plans for electoral reform in Hong Kong.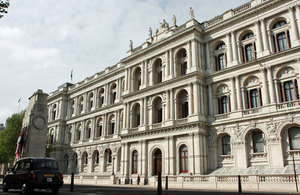 An FCO spokesperson said:
We welcome the confirmation that China's objective is for the election of Hong Kong's Chief Executive through universal suffrage.

The UK's position has always been that the detail of the constitutional package is for the Governments of Hong Kong and China and the people of Hong Kong to decide in line with the Basic Law.

While we recognise that there is no perfect model, the important thing is that the people of Hong Kong have a genuine choice and a real stake in the outcome. We recognise that the detailed terms that the National People's Congress has set for the 2017 election will disappoint those who are arguing for a more open nomination process.

We hope that the next period of consultation will produce arrangements which allow a meaningful advance for democracy in Hong Kong, and we encourage all parties to engage constructively in discussion to that end.
Further information
Follow the Foreign Office on twitter @foreignoffice
Follow the Foreign Office on facebook and Google+
Published 4 September 2014