Foreign Office re-launches podcasts
From today users will be able to download four new podcasts launched by the Foreign Office: History, History Enhanced, Arabic and Farsi.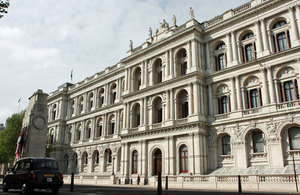 The first episodes in the History strand can also be used as downloadable audio guides for the upcoming Foreign Office Open House event on 18th and 19th September. Users can choose between a straight audio version and an enhanced version featuring photographs from inside some of the building's most famous rooms.
Visitors to the Foreign Office's Arabic and Farsi websites will be able to subscribe to regular audio updates through iTunes given by the UK's Arabic and Farsi spokesman, Barry Marston.
These podcasts will build on the following of Marston's Arabic and Farsi video blogs and will be a core part of the UK's efforts to engage with audiences across the Middle East and Iran. The podcasts address issues from the UK's response to the Gaza flotilla incident to the security situation in Afghanistan, discussions on how Ramadan and Eid are observed in the UK and cultural stories like the loan of the Cyrus Cylinder to the Museum of Tehran.
Jimmy Leach, Head of Digital Engagement said today: "The UK is committed to explaining its foreign policy and engaging with people across the world. We're pushing the boundaries of new media to achieve this. These podcasts will give people a historical insight into the world of the FCO and reach people otherwise unaware of what we're saying and doing in the Middle East and Iran."
You can see the full list of podcasts and options for subscribing at www.fco.gov.uk/podcasts
Published 9 September 2010