Foreign Office ranked 16th in Stonewall's Top 100 Employers
Stonewall's 2011 Workplace Equality Index puts the Foreign Office in 16th place this year out of 378 entries, compared to 17th last year.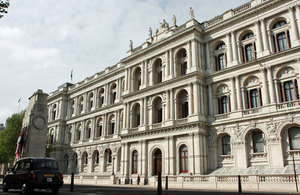 Whilst this award recognises the FCO's approach to including LGB staff and promoting LGB equality in our wider work. It is also evidence that the FCO believes that any member of staff performs better when they can be themselves.
The Foreign Office Lesbian and Gay Group (FLAGG) has also been identified by Stonewall as a 'Star Performer Network Group' under its a scheme to highlight excellence in employee networks.
A Foreign Office spokesman said:
"I am delighted with this achievement. Our consistently strong and improving performance in the Stonewall Index is an example of the Foreign & Commonwealth Office's (FCO) commitment to diversity and inclusion. We are committed to being an employer of choice for talented staff regardless of sexual orientation or background. We are using our relationships with other countries, to push for unequivocal support for gay rights and for UK civil partnership to be recognised internationally."
Congratulating the Foreign Office Stonewall said:
"The Foreign Office continues to be one of the top performing government organisations in creating a lesbian, gay and bisexual-friendly workplace. For the second year running their employee network for LGB&T staff - FLAGG - was recognised as a 'Star Performer' Network to recognise the invaluable contribution the group makes to the Foreign office in supporting gay staff. As well as a solid base of policies and strong communications around work being done on sexual orientation equality, Stonewall is particularly impressed with the work the FCO and FLAGG have done to support their gay employees around the globe - updating post reports to provide accurate information to LGB employees looking at foreign postings and working to ensure that sexual orientation is not a barrier to career progression.'
Top performers from the 2011 index, including the FCO, will be sharing their best practice at this year's Stonewall workplace conference on 18th March.
Published 13 January 2011