Foreign Office publishes review of the Government wine cellar
Future purchases of wine for the Government wine cellar will become self financing through the sales of high value stock – which could save the taxpayer nearly half a million pounds over the life of this Parliament.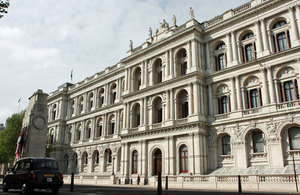 Speaking about the review, Foreign Office Minister Henry Bellingham said:
"I seriously considered abolishing the cellar, but all the evidence shows that we will save the taxpayer money by keeping the cellar and reforming it so that wine purchases are self funded through sales. The cellar has been part of Government functions for nearly a century and through these reforms it will provide value for money, accountability and will continue to offer hospitality to important guests from around the world."
In a written statement to Parliament he said:
"I am announcing today the outcome of a review of the Government Wine Cellar. Government Hospitality provides corporate hospitality services for the whole Government, and has done so for over 80 years. It is administered by the Foreign and Commonwealth Office. As part of its functions, it includes a Wine Cellar. On 18th June 2010 my Rt Hon Friend the Secretary of State for Foreign and Commonwealth Affairs instituted a thorough review of the cellar's functions to ensure that the purchase, retention and use of wines and spirits for official government events hosted by senior members of Government was appropriate to the contemporary environment and would provide value for money for the tax payer.
That review has now finished. It concluded that retaining a Government Wine Cellar remains the most cost effective way to supply wine for Government Hospitality functions and State Banquets, but that substantial reform was needed.
The management of the cellar will be reformed in the following ways, ensuring that the provision of wine for Government Hospitality is entirely self-financing for the lifetime of this Parliament:
We will conduct targeted sales of high value stock in order to pay for future purchases.
There will be an annual statement to Parliament on the use of the Wine Cellar, covering consumption, stock purchases, costs, and value for money. I am arranging to have placed in the Library of the House such a report for the financial year 2009-2010. A report on the Cellar's operations in 2010-2011 and subsequent years will be placed in the Library of the House during the month of May following the end of the appropriate financial year.
The former Government Hospitality Advisory Committee for the Purchase of Wine, ceased to be a Non-Departmental Public Body in October 2010. We have agreed with its members that Government Hospitality will continue to benefit from the expertise of the Committee on an ad hoc basis. I should like to record my thanks to the members of the Committee for their agreement to continue this unpaid expert advice.
I am confident that the changes set out above will enable the cellar to achieve best possible value for money for the taxpayer and greater transparency in how its resources are used."
Published 13 May 2011