Foreign Office podcast remembers the historic reburial of Imre Nagy
On 16 June 1989, British Ambassador Greg Dorey was one of 200,000 people present in Heroes Square in Budapest, Hungary, to witness the reburial ceremonies of Imre Nagy and his fellow martyrs.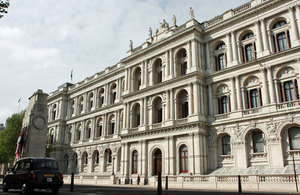 "It was hot, humid, crowded, and very exciting. We heard a call for Soviet troops quartered in the country to withdraw and for democratic elections to take place".
Speaking about arriving in Hungary in April 1989, British Ambassador Greg Dorey says "It was still Europe, but in terms of the systems in place, it could have been another world".
You can download Greg Dorey's eyewitness account of this important moment in Hungarian history via RSS or iTunes, or listen below.
Historic reburial of Imre Nagy by Foreign & Commonwealth Office on Mixcloud
Published 17 November 2011