Foreign Office pays tribute to UN peacekeepers
The Head of the Foreign Office's Conflict Department, Conrad Bailey, laid a wreath at the Cenotaph today to commemorate those who have lost their lives whilst serving in United Nations peacekeeping missions.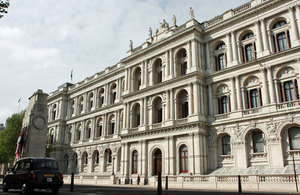 He was joined by representatives from foreign embassies and the UN's Under Secretary-General for Peacekeeping Operations, Alain Le Roy. Today's events are part of a series of activities to mark International Day of United Nations Peacekeepers, which takes place on 29 May.
Mr Bailey also chaired a session on peacebuilding at the International Day of Peacekeepers conference hosted by the United Nations Association (UNA), held at the Royal United Services Institute (RUSI) on Whitehall as part of wider events to mark the day.
Since 1948, over 2900 peacekeepers from 120 nations have been killed in the course of duty, including over 100 British personnel.
The UN currently has 14 missions with over 120,000 personnel deployed in the field. The UK continues to support UN peacekeeping and their essential efforts to achieve peace, security and stability.
Published 26 May 2011