Foreign Office participates in Blog Action Day
Foreign Office staff from around the world have blogged on this year's theme 'The Power of We', covering a wide range of issues.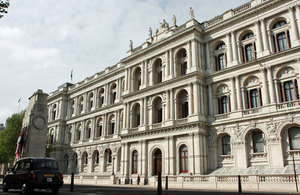 Blog Action Day is an annual event held every October 15. It aims to unite the world's bloggers in posting about the same issue on the same day, aspiring to spark a global discussion and drive collective action.
This year, Foreign Office bloggers have joined in to blog about 'The Power of We', with a diverse selection of responses from around the world.
Ambassador to the Holy See Nigel Baker talks about networks operating to spread the good word, help people in need and support communities, and how the embassy works with them.
John Preece in Canada writes about a Science and Innovation Network taking place this year to collaborate internationally on adaptation to extreme, climate change-driven weather events.
In Mumbai, Deputy High Commissioner Peter Beckingham, writes about Mahatma Gandhi, who sought to improve the conditions of the poorest in South Africa and then in India.
Meanwhile High Commissioner to Brunei Rob Fenn discusses the involvement of students in a scheme to eradicate Polio.
The Ambassador to Ethiopia Grey Dorey talks about the importance of freedom of expression and the role social media plays.
Published 15 October 2012