Foreign Office participates in Blog Action Day
Foreign Office staff from around the world have blogged on this year's theme of water, covering a wide range of issues.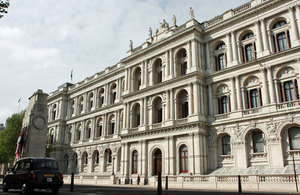 Blog Action Day is an annual event held every October 15. It aims to unite the world's bloggers in posting about the same issue on the same day, aspiring to spark a global discussion and drive collective action.
This year, Foreign Office bloggers have joined in to blog about water as a global issue, with a wide range of responses from around the world.
Our latest to join the ranks, Ambassador to Hungary Greg Dorey makes his debut today, writing about water as an environmental concern and discussing the challenges of the recent red sludge catastrophe.
High Commissioner to Islamabad Adam Thomson has written about the difficulties posed by too much water in the Pakistan floods and the challenges of getting enough clean drinking water for everyone. Ambassador to Manila Stephen Lillie talks about the contrast between the too much water in 2009 causing devastating floods in the Philippines, and too little water during 2010.
Seiko Indo in Japan blogs about bottled water, an issue the Tokyo Embassy Green Team is addressing in its greening activities. In Cairo, Deputy Ambassador Thom Reilly writes of the significance of the Nile and the Dead Sea, and growing concerns about water in relation to climate change. In a guest entry, Jane Kozinski, Senior Policy Advisor for the British Consulate-General in New York, writes about water supply, quality and energy use in the USA.
Ambassador to Bolivia Nigel Baker blogs about the shrinking glaciers in Latin America, and the potential for water to replace oil as a battle issue, while Chile Climate Change Officer Pablo Retamal highlights concerns over the long-term availability of water in Latin America.
In Baghdad, Ambassador John Jenkins says the culture and history of Iraq are bound up with its identity as the land of its rivers, connecting water, art, music, architecture and freedom of expression. Foreign Office Digital Campaigns Manager Amelia Bate touches on the issue of water as a human right, and the UK's latest moves on this. Ambassador to Sweden Andrew Mitchell marks the first anniversary of NGO WaterAid in the country, while in Beirut Ambassador Frances Guy compares different water issues experienced in Lebanon and Beirut.
In the Netherlands, Ambassador Paul Arkwright talks about living in a country that is 20% below sea level, while Ambassador to Armenia Charles Lonsdale writes of the importance of Lake Sevan to the land-locked country he works in.
High Commissioner to Nigeria Bob Dewar talks about the significant challenges facing the 65 million people in Nigeria who do not have safe drinking water, while High Commissioner to Kenya Rob Macaire highlights the need to plan for the droughts that frequently affect many African nations. Meanwhile, Ambassador for Multilateral Arms Control & Disarmament, Geneva John Duncan reflects on visiting Kenya, discussing how the rainworks concept has made lives of many easier by improving access to water.
This is the third year the Foreign Office has participated in Blog Action Day. Our bloggers also participated by writing about poverty in 2008, and climate change in 2009.
Published 16 October 2010