Foreign Office Minister's visit to Algeria concludes
Minister for the Middle East and North Africa Alistair Burt ends his two day visit to Algeria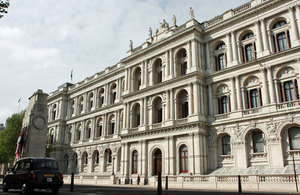 This was Mr Burt's second visit to Algeria within the past few months.
He was hosted by HE Mr Abdelkader Messahel, Minister Delege for Maghreb and African Affairs. The two Ministers co-chaired the fifth round of the UK-Algeria political dialogue and discussed the bilateral relationship across a range or priority areas including counter terrorism and trade cooperation. They also shared views on a number of regional and international issues including Libya and Western Sahara.
At the end of his visit, the Foreign Office Minister said:
"I was delighted to be able to visit Algeria for the second time. I have had very good discussions with Minister Messahel on a number of issues particularly our bilateral relationship, which continues to go from strength to strength.
We also discussed the ongoing situation in Libya. I stressed the importance of an end to violence and for a peaceful solution that will allow the aspirations of the Libyan people to be met."
Published 6 April 2011