Foreign Office Minister's visit strengthens UK ties with Emirates
Minister for the Middle East and North Africa Alistair Burt visited Abu Dhabi for the eighth meeting of the UK-UAE Taskforce on 17 September.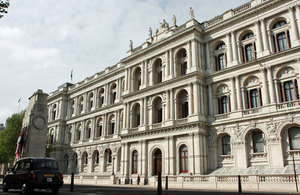 Meeting with His Excellency Dr Anwar Gargash, the UAE Minister of State for Foreign Affairs, he discussed a range of issues including trade and investment, consular relations, international development, education, clean energy, and foreign policy.
Speaking after the visit, the Foreign Office Minister said:
"It was a pleasure to visit the UAE to renew our close ties with the Emiratis. Through the UK-UAE Taskforce our investment is growing in each other's economies and our cultural and educational links are prospering. British nationals are helping to drive UAE prosperity and have been involved in iconic projects like the Burj Khalifa and Abu Dhabi Formula One. Emirati investment in the UK is also thriving, through innovative projects like the London Array, the world's largest offshore wind farm, and the fantastic Emirates Skyline - a new cable car across the River Thames in London.
"This week we explored how to strengthen our trade and investment links, how we can work more closely on legal and consular issues and our cooperation on shared foreign policy priorities in Syria, Iran and Somalia. We also discussed what more the UK and UAE can do together on renewable energy, as we approach the UN Climate Change negotiations in November. As we look ahead to the next Taskforce meeting in London, I'm sure our relationship will continue to go from strength to strength."
The UK-UAE Taskforce was part of a two-day visit by Mr Burt to the UAE which included a meeting with the Ruler of Furjairah, His Highness Sheikh Hamad al Sharqi, and dinner with local business leaders in Dubai, from the UK and UAE. Mr Burt also took part in a football match against the Brazilian embassy as part of an Olympic handover event, discussed law enforcement cooperation with the Dubai Attorney General Eissam Isa al Humaidan and visited the British University in Dubai to highlight the strength of British education institutions and education cooperation in the UAE.
The UAE is one of the priorities for the Gulf Initiative through which the British Government is elevating its relations with all Gulf countries. We are committed to expanding our cooperation with Gulf States across the board: in culture, education, defence and security, trade and investment, and foreign policy cooperation. The UK-UAE Taskforce was established in June 2010 when Prime Minister David Cameron visited the UAE and has continued to go from strength to strength.
Published 19 September 2012