Foreign Office Ministers attend Paralympics welcome reception
Ministers Alistair Burt and Jeremy Browne welcome a variety of international partners and guests to the FCO for a reception recognising the importance of the Paralympics.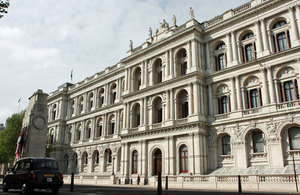 Minister Alistair Burt and Minister Jeremy Browne are welcoming National Paralympic Committee Chefs de Mission, representatives of disabled sporting organisations, international partners and guests from Olympic, Paralympic, and Disability Rights groups to the FCO for a reception which recognises the importance and value of the Paralympics.
Sir Philip Craven, President of the International Paralympic Committee, will also be attending and along with the Ministers, will speak about the Paralympics and what we can and should do to support rights for disabled people around the world. Posts across the FCO's global network have been promoting the Paralympics and supporting local groups, by organising events and activities which demonstrate the UK's support for disability rights and encourage more countries to promote disability sports.
FCO Minister for the Olympics and Paralympics Jeremy Browne said:
"The UK is proud to welcome home the Paralympic Games. We are delighted that this is the most successful Paralympics ever. Sixty-four years ago, sixteen ex-servicemen took part. At London 2012 there are more than 4,000 athletes from 150 nations - making the Paralympics a truly global sporting event.
"We want to harness the spirit of the Paralympics to bring about a real change in society's attitude to disability and disability sport around the world. We also want to pass on what we learn to future hosts of the Games, exploring how to promote Paralympic values and disability rights in terms of the accessibility of Olympic venues and other host city infrastructure. It is great that so many National Paralympic Committees are here with us tonight."
Some examples of what the FCO has done around the world
Following the visit of HRH Prince Edward, The Earl of Wessex to Kenya last year, the British High Commissioner presented the Kenya Basketball Wheelchair Association with six wheelchairs. This has helped participation in disability sport in a country where it can be difficult for disabled groups to get equipment.
The British High Commission in Pakistan met with Pakistan's National Paralympic Committee officials and eight Paralympic athletes, who were hopeful of qualifying for the 2012 Games, to discuss disability issues.
The British Embassy in Quito hosted an event with the Ecuadorean Ministry of Sport, with a performance by the Sinamune orchestra (musicians with special needs) and a tennis match involving Ecuadorian wheelchair tennis players. The Vice President of Ecuador attended the event, and the occasion helped to raise the profile of the rights of disabled people and disabled sport in general.
Published 3 September 2012