Foreign Office Minister will today re-open British Embassy in El Salvador
Foreign Office Minister Hugo Swire has said that the UK will continue to increase engagement with Latin America.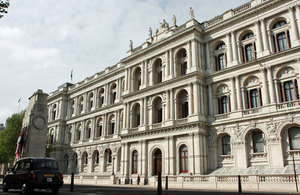 Foreign and Office Minister Hugo Swire will today officially open the UK's new Embassy in El Salvador, signalling renewed engagement between the two countries.
He will be joined by new Ambassador Linda Cross as he tours the new premises and meets staff who will be working there. The UK's previous Embassy was closed in 2003, with other posts in the region acting as representatives of the UK Government until now.
Mr Swire said:
"Coming to El Salvador has made me realise the real desire there is here to learn more about the UK and to engage with us.
"The same desire exists across the Atlantic, where the Foreign Secretary and I continue to work to increase our engagement with Latin America. We have been away too long and this much-overdue Embassy signals just how serious we are about expanding in the region.
"Now we are fully established and up and running, I look forward to hearing from our staff first-hand about new opportunities, and about the ways the UK can work further with El Salvador on issues of mutual interest."
The decision to re-open an Embassy in El Salvador was made in May 2011. This followed a shift in UK policy on Latin America, summed up by the Foreign Secretary William Hague's 2010 Canning House speech where he said that the UK had not devoted enough attention to the region.
The new Embassy will initially be concentrating on priority areas for the UK, and working with the El Salvador government to ensure benefits for both countries. It will be based in the capital city, San Salvador.
Published 14 November 2012