Foreign Office Minister welcomes start of Nuclear Non-Proliferation Treaty Preparatory Committee
Foreign Office Minister Alistair Burt has welcomed the start of the Nuclear Non-Proliferation Preparatory Committee today in Vienna.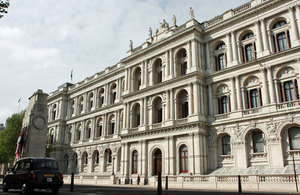 Speaking ahead of the meeting the Minister said:
"I welcome the start of the 2012 Non-Proliferation Treaty Preparatory Committee today in Vienna. This is the first meeting of all 189 States Parties to the Treaty since the successful NPT Review Conference in 2010. I attended that Conference as my first overseas duty as a UK Foreign Office Minister and I was heartened by the willingness of all States Parties to strengthen the NPT through agreement to an Action Plan to implement the Treaty, working through multilateral channels to further international peace and security.
"The PrepCom this week and next will be an opportunity for the States Parties to reaffirm their commitment and to assess progress against the Action Plan, building on the success of 2010. I am pleased that the UK will be attending the PrepCom with our strong disarmament record and with concrete examples of how we are implementing the Action Plan and strengthening the non-proliferation regime."
You can listen to Alistair Burt discussing current nuclear issues, the Non-Proliferation Treaty and the Preparatory Committee with Dr Patricia Lewis of Chatham House in his blog.
Minister Burt also wrote recently in the Huffington Post UK on The Nuclear Non-Proliferation Treaty - at the heart of the global nuclear debate.
Published 30 April 2012