Foreign Office Minister welcomes report on Operation Atalanta
Foreign Office Minister Alistair Burt has welcomed the House of Lords EU Committee for External Affairs report on EU Naval Force Operation Atalanta.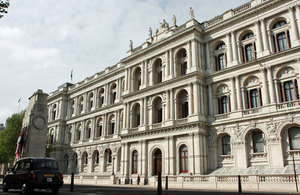 He said:
"We welcome the House of Lords European Union Committee's follow-up report on the European Union Naval Force's Operation Atalanta, particularly the Committee's clear support for our military engagement in the Gulf of Aden and in the wider Indian Ocean and for our position on private maritime security onboard UK flagged vessels. We will provide a fuller response to all of the recommendations in due course."
In response to rising numbers of pirate attacks in the Gulf of Aden, the European Union established its first maritime task force in December 2008, under the operation name Atalanta.
26 nations have contributed to the operation, either through the deployment of warships and aircraft, or by assigning personnel to the headquarters (in Northwood, UK) and other elements of the of the operation's staff.
Published 21 August 2012