Foreign Office Minister welcomes positive assessment of elections in Macedonia
Minister for Europe David Lidington has welcomed the international assessment of parliamentary elections held in Macedonia on 5 June.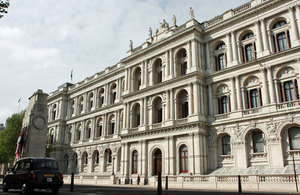 Speaking today the Foreign Office Minister said:
"I welcome the international assessment that the parliamentary elections held in Macedonia on 5 June have been competitive, transparent and well administered throughout the country. Also that freedoms were respected and that the election day itself was assessed as positive, with a high turnout of people able freely to express their voice.
The days to come will prove important in the formation of a government and to how political forces respond in the wake of the elections. I hope that all parliamentarians will use their rightful place in Parliament to renew the process of internal political dialogue that is such a critical aspect of the EU reform agenda within Macedonia.
The UK was pleased to have participated in the electoral observation effort and to have provided financial support to an NGO observer body in Macedonia.
The United Kingdom remains a strong supporter of Macedonia's EU and NATO ambitions. We hope that in the coming months we will see progress in areas such as the reform of the public administration, anti-corruption efforts and reform of the judiciary. This is a shared responsibility for both the government and opposition."
Published 10 June 2011