Foreign Office Minister welcomes Middle East champions of reform to UK
Foreign Office Minister for the Middle East, Alistair Burt, today welcomed 17 Fellows from Bahrain, Iraq, Jordan, Lebanon and Oman to London from a regional John Smith Memorial Trust (JSMT) programme.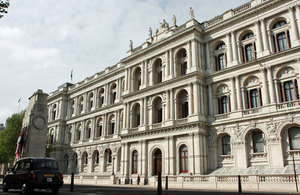 The programme, funded by the FCO's Arab Partnership programme, promotes good governance and the rule of law in the Middle East and follows a successful pilot project last year. It is part of a major UK Government policy initiative to assist those countries in the Middle East which are working to create more open and pluralistic societies.
Speaking after the meeting Minister Burt said:
"Today I met 17 inspirational individuals who are helping drive reform across the region. Each has a unique story and I am proud that the UK's visionary Arab Partnership programme has been able to join with the John Smith Memorial Trust to help nurture and support their commitment to forging the foundations of democracy and accountability in their own countries.
"A year ago a policewoman from Lebanon was part of this innovative project. Today thanks to the JSMT and Foreign Office funding she is championing equality and diversity in the Lebanese police force. It is this sort of work that, as countries across the Middle East chart their own individual journeys in the wake of the Arab Spring, will help ensure open societies which deliver stability and prosperity".
The JSMT project shows how democracy can be a successful tool for securing good governance, for making the Rule of Law effective by advancing citizens' human and legal rights, for empowering disadvantaged groups and for giving a voice to those who currently lack political influence. It is founded on the principle that Middle East countries will find their own way to achieve these goals, but looks to provide advice and support drawing on the UK's long-history and experience in these areas.
The Fellows already hold senior positions in their governments or are active in business, law, journalism and civil society. This project helps them develop their own project ideas during their stay in London as well as supporting the implementation of these on their return home.
This year's cadre include Rakan Madi and Wafa' Nimri. Rakan is working to energise the relationship between Jordanian voters and their elected representatives. He said the JSMT programme had given him "a great chance to shadow a member of parliament" and find out more about MPs' responsibilities. Wafa' Nimri's project seeks to counter misinformation in Jordan. She said her "experience with the John Smith Memorial Trust showcased the rule of law and good governance in a system where collaborative ideas flourish and people are questioned and held to account. I loved it, it's hands-on and spot-on."
Published 15 November 2012