Foreign Office Minister visits the Turks and Caicos Islands
UK Minister for the Overseas Territories Henry Bellingham arrived in Providenciales, Turks and Caicos Islands (TCI) Thursday afternoon at the start of his second visit to the British Overseas Territory.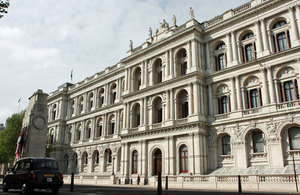 The Minister's visit comes after the making of the new TCI Constitution Order in the Privy Council Wednesday 13 July. The text of the Constitution was finalised at meetings in London with a TCI delegation in June.
The new Constitution Order is an important achievement towards meeting the first milestone and will be a key element of the Minister's messages this week. Foreign Office Minister Henry Bellingham will also note good progress against other milestones, and the need for further work to reach remaining milestones to enable elections to take place in 2012.
During the visit, the Minister will also reiterate the support of the UK Government for the TCI and his hopes for economic growth in the territory following the UK Government's loan guarantee of up to US $260 million.
The visit will begin with a televised keynote speech at 1515 local time, broadcast on 88 Jamz Radio (Provo), RTC (territory wide), WIV and PTV. Over the coming days, the Minister will meet with members of the Advisory Council, Consultative Forum and the two political parties. He will also meet representatives from civil society groups and the business community.
In addition to spending time in Providenciales, the Minister will visit Grand Turk, and for the first time, Salt Cay and North Caicos.
Published 14 July 2011