Foreign Office Minister visits Israel and the Palestinian Authority
Foreign Office Minister Alistair Burt is visiting Israel and the Palestinian Authority for the first time since his appointment as Minister for the Middle East.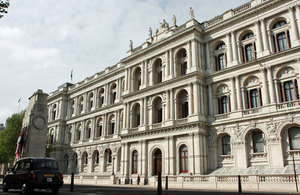 In Israel, Minister Burt will meet Israeli Foreign Minister Avigdor Lieberman and Deputy Foreign Minister Danny Ayalon.
He will spend a day touring northern Israel, including a visit to the Carmel Forest and Kibbutz Beit Oren, to see the damage caused by December's massive blaze and meet local residents to hear about the reconstruction efforts. Britain sent two IAF helicopters to help in the efforts to extinguish the blaze and the teams were among the first to arrive on the scene to help in the international efforts. The Minister will also visit Kibbutz Eshbal in the Galilee to hear about their groundbreaking educational programme for alienated youth, and visit Given Imaging in Yoqneam. In Nazareth, the Minister will meet the Mayor and other senior members of Israel's Arab community to hear about their work and the challenges they face.
The Minister for the Middle East will visit a 'Cafe Europa' centre for Holocaust survivors run by the Tel Aviv Foundation to demonstrate the importance Britain places on remembering the Holocaust and hear first-hand about the survivors' experiences.
In the Occupied Territories, the Minister will visit the West Bank and meet Palestinian officials. More details on this leg of the visit will be available on www.ukinjerusalem.fco.gov.uk.
On Sunday 16 January, Minister Burt will answer questions put to him by Ynet readers. On Wednesday 19 January, he will answer questions on UK policy posted on the Embassy and Consulate General's Facebook pages. Leave your question here.
Published 17 January 2011