Foreign Office Minister visits Egypt
Foreign Office Minister Alistair Burt will meet the Egyptian Prime Minister, other senior members of the transitional government and leading members of the political opposition during the 2 day visit.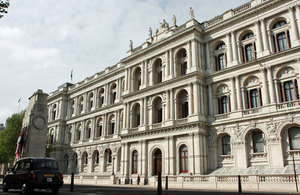 Speaking ahead of the visit the Minister for the Middle East and North Africa said:
"Last month, the Egyptian people expressed their profound desire for change and for their needs and aspirations to be met through democratic government.
"I am therefore visiting Egypt at a time of great opportunity. I will meet senior members of the government, opposition and civil society, and will encourage them to work quickly towards free and fair democratic elections. I also hope to spend time with some of those who inspired such a profound change in the country's direction.
"The UK is a longstanding friend of Egypt. We have close ties: historical, commercial and political and my meetings will take forward work in a number of important areas. I intend to discuss the current situation in Libya, where the UK and Egypt have been working closely together on consular and humanitarian matters, and we will also share views on the Middle East Peace Process."
Published 9 March 2011