Foreign Office Minister visits Algeria
Minister for the Middle East and North Africa has arrived in Algiers for a series of high level meetings with the Algerian Government.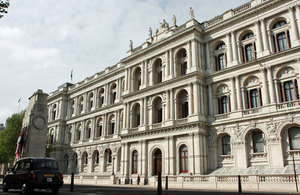 Minister Alistair Burt will meet with Algerian Minister of Foreign Affairs Mourad Medelci and Justice Minister Tayeb Belaiz as part of a packed programme. The visit will focus on expanding the UK's diverse relationship with Algeria. He will also discuss the trade and investment opportunities open to UK and Algerian businesses and hold a round table meeting with the Algerian media.
Alistair Burt said today:
On becoming Minister for the Middle East and North Africa I have made it a priority to visit Algeria. Algeria matters to the UK and I am delighted to be visiting for the first time… The UK enjoys an excellent bilateral relationship with Algeria. There is established cooperation on a broad range of issues, including migration and counter terrorism.
We have a long established energy relationship and trade has experienced double digit growth in recent years. Our two countries have signed agreements in areas of judicial cooperation, migration and defence relations. I look forward to discussing all these issues during my visit.
Mr Burt will also discuss a number of important regional issues with the Algerian government, including sharing views on the Middle East Peace Process.
Published 11 November 2010