Foreign Office Minister urges Egypt to deliver change
Minister for the Middle East Alistair Burt met Egyptian Ambassador to the UK Hatem Saif el Nasr on 9 February.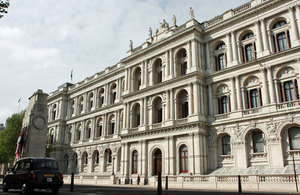 Following the meeting, the Foreign Office Minister said:
The Ambassador and I had a long discussion about the current situation in Egypt. I clearly reiterated the British Government's position: whilst it is for the Egyptian people to determine the leadership of their country, it is clear that an orderly transition to a broad-based government, with real, visible and meaningful change needs to start now
He noted recent commitments by the Egyptian Government, including the Presidential decree to establish a constitutional review committee, an outline a timetable for change, a commitment to protect freedom of expression and to allow peaceful protest and an end to the State of Emergency. He said that:
Some of these promises have been made before, and we look forward to actual implementation- what is needed now is action which builds confidence and which leads towards an inclusive government that can meet the needs and aspirations of the Egyptian people".
In this context Mr Burt said that he was struck by the size and diversity of yesterday's demonstrations in Tahrir square.
The Minister also expressed concern about continuing detention and harassment of foreigners, journalists and members of the opposition in Egypt. He said that these needed to "stop immediately", and invoked public assurances given by the Egyptian Vice President.
Published 9 February 2011