Foreign Office Minister strongly condemns Israeli settlement plans
Foreign Office Minister Alistair Burt has condemned Israel's plans to expand the illegal settlement of Gilo on the southern flank of East Jerusalem and urges the Israeli Government to change its approach.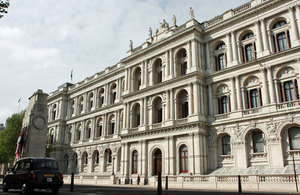 Commenting on the latest publication of plans for up to 797 new settlement housing units in the illegal Israeli settlement of Gilo, Alistair Burt, Minister for the Middle East, stated:
"The UK has been clear that Israeli settlements are illegal and undermine the possibility of a two state solution. It is deeply worrying that despite repeatedly raising our concerns, Israel continues to press ahead with plans to expand them. I therefore strongly condemn yesterday's news that the Government of Israel is advancing plans to expand Gilo on the southern flank of East Jerusalem. This move is contrary to Israel's stated commitments to both the two-state solution and upholding international law. We urge Israel to reverse this decision and take no further steps to expand settlements."
On 18 October the Israeli Ministry of Interior published the district committee's approval of Mordot Gilo West Plan 13157, for the construction of 797 units in Gilo. The planned construction would expand the footprint of the settlement of Gilo. This is the final stage prior to the publication of tenders. It is one of three plans currently being processed to develop Gilo further - two of which would extend Gilo southwest toward Beit Jala and Wallajeh and one to the north toward Beit Safafa. Together, these plans would add 2,139 units to the area, representing a significant expansion of Gilo. This is part of a wider pattern of settlement activity on Jerusalem's southern flank involving the settlements of Givat Hamatos and Har Homa B and C.
Published 19 October 2012