Foreign Office Minister strengthens ties during visit to Libya
Minister for the Middle East and North Africa Alistair Burt yesterday concluded a successful two day visit to Libya – his second in six months.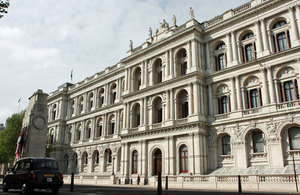 He met Prime Minister al-Kib, the Ministers of Foreign Affairs, Interior, Justice and Communications and UN Special Representative Ian Martin. The Minister visited the newly re-opened Visa Application Centre in Tripoli and met and ran with some of the Libyan Olympic and Paralympic athletes who will be competing in the London this summer.
Minister Burt said that the UK looks forward to elections to a National Congress in Libya this summer which will offer the Libyan people the first chance in a generation to choose their leaders. In his discussions with the Prime Minister and others members of the government, Minister Burt emphasised the importance of these elections being held on time. The UK is contributing £1.5m donation to the UN Electoral Assistance Programme which will help UNDP provide a comprehensive programme of advice and technical assistance to the Libyan Election Commission, and is funding a programme to support Libyan domestic election observers. This comes on top of substantial assistance that the UK is already providing, including support to civil society, public security, prison reform,and the clearance of landmines.
The Minister discussed with Prime Minister Al-Kib and the Ministers for Foreign Affairs and the Interior the strength of the Libya - UK bilateral relationship and areas where they could further build cooperation, including health, education and training. He also raised the importance of making progress on the investigations into the killing of WPC Yvonne Fletcher and Lockerbie, and of taking forward reconciliation with communities affected by terrorism sponsored by the Qadhafi regime - all of which are priorities for the UK Government. During his visit the Minister also emphasised the importance of protecting human rights in Libya - ensuring a clear break with the past - and continued engagement and cooperation with the ICC. Underlying the UK's continuing commitment to a democratic, prosperous and united Libya he confirmed to the Libyan Foreign Minister the UK's intent to maintain a "British Embassy Office in Benghazi". Minister Burt visited the recently opened Visa Application Centre in Tripoli and confirmed that, from 1 May, British Airways will resume direct flights between London and Tripoli.
On meeting the Libyan Paralympic team the Minister welcomed the inspirational example of those who were left disabled by the conflict but continued to show how much they could achieve for themselves and their country. He emphasised that the UK was a centre of excellence for helping to rehabilitate wounded soldiers through sport and invited the Libyan Paralympic Committee to visit UK facilities whilst they were here for the Olympics to share ideas on how the Libyan Olympic family might be able to provide further help to those injured during the revolution.
Published 25 April 2012