Foreign Office Minister speaks about Britain's reputation in the world
Foreign Office Minister Hugo Swire set out why Britain's reputation is more important than ever, and why we should be more confident about our reputation overseas.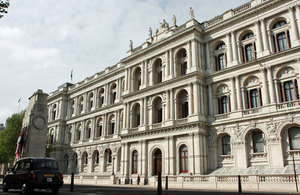 Speaking at the opening day of the YouGov-Cambridge September Forum, 'Reputation in the Age of Protest', he said:
"In Britain we tend to talk ourselves down. But thinking like this is unnecessary and harmful, because our reputation in the world is hugely important to us.
It is important for our prosperity, helping to attract foreign investment and tourists and to support our companies overseas. It matters for our security too, as our reputation affects how other countries and groups act towards us. Poor reputation makes it much more difficult for us to pursue our national interests. And in today's rapidly-changing world, it matters more than ever, because we rely on other countries for our own prosperity - particularly in new and emerging markets.
Recent polling conducted by YouGov has confirmed that Britain has a strong reputation overseas. It made clear that we are seen widely as peaceful, respectful and democratic, a nation that respects human rights and is a sensible voice in the world. It also pointed to education as being one of our greatest national strengths."
The Foreign Office Minister also spoke about how Government action is helping to boost Britain's reputation across the world, including by placing values at the centre of the UK's foreign policy, acting as a leader on issues of global importance such as climate change and continuing to support developing countries through our development programmes. He noted too that Foreign Office Ministers were travelling more frequently to build relationships, and highlighted the opening of new Embassies and High Commissions overseas.
In closing, the Minister remarked, "We need to be more confident about our reputation overseas. We have got a lot to shout about."
Published 18 September 2012