News story
Foreign Office Minister signs cooperation agreement with the Organisation of Islamic Cooperation
Foreign Office Minister Baroness Warsi has signed a new agreement with the Organisation of Islamic Cooperation (OIC).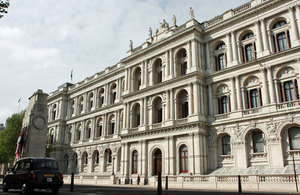 The agreement is to strengthen cooperation across a range of important areas including peace and security, conflict prevention, human rights, science and technology, humanitarian assistance and culture. The Framework will allow for closer working between the UK and the OIC, a 56 state association promoting Muslim solidarity in economic, social, and political affairs. The Framework was developed following meetings between Baroness Warsi and Secretary General Ihsanoglu when he visited the UK in 2011.
Read the cooperation agreement with the OIC
Speaking after signing the agreement, Foreign Office Minister Baroness Warsi said:
"I am pleased to be signing a new agreement with the OIC today, an organisation which has an important role in making sure the voices of its members are heard on issues that matter to Islamic communities across the world. I look forward to a closer dialogue between the OIC and the UK, and identifying opportunities where we can work together. This is an opportunity to discuss the many shared interests we have - including conflict prevention, promotion of human rights and fundamental freedoms, respect for religious freedom and combating intolerance on the ground of religion or belief."
The Secretary General of the OIC Prof. Ekmeleddin Ihsanoglu said:
"I welcome the opportunities this agreement brings to increase the dialogue between the OIC and the UK and to broaden our co-operation. Recent events in the region have strengthened our commitment to work closely together on key international political, humanitarian, and social issues. Our common values, and shared drive to combat religious intolerance and discrimination underpin our work. We look forward to further developing our relationship."
The UK appointed a Special Representative to the OIC, based in Jeddah, in 2011.
Published 28 September 2012