Foreign Office Minister "saddened" by loss of life in Thailand
Heavy rain has caused flooding and landslides in some of the southern provinces and islands of Thailand resulting in loss of life and damage to infrastructure.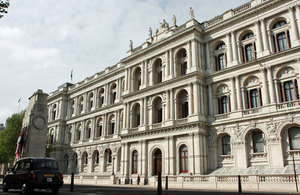 Speaking today, Foreign Office Minister Jeremy Browne said:
"I am deeply saddened at the loss of life and damage in Thailand caused by flooding and landslides. Our condolences go to the Thai people at this time.
I am also keenly aware that a large number of British citizens have been caught up in the situation. We are doing all we can to assist British nationals stranded by the floods. Staff from the British Embassy in Thailand have travelled to the area and have already helped hundreds of British and EU nationals. I strongly commend the efforts of the Thai authorities to help travellers leave the affected islands."
The Foreign Office advise against non essential travel to Koh Tao and Koh Phangan. All travellers to southern Thailand and the islands should monitor local news and the Thai Met office and follow local authority advice. British nationals who need urgent assistance can call the FCO on +44 (0)20 7008 5355 or the Thai Tourist Police on 1155 (+66 2 214 1956 if using a UK mobile in Thailand).
Published 1 April 2011