Foreign Office Minister raises violence in Rakhine state with Burmese Embassy
Foreign Office Minister Hugo Swire calls in Burmese Charge d'Affaires to discuss concerns.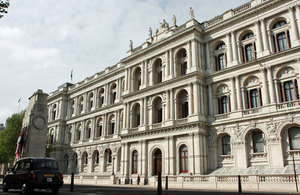 The United Kingdom remains deeply troubled about the further outbreaks of violence in Rakhine State and continues to urge the Burmese government to put in place measures to bring the violence to an end. Minister for Burma Hugo Swire pledged the UK's commitment to working closely with the Burmese government, parliament and civil society, and through our development assistance, to see Burma continue its transition to democracy.
Speaking in Parliament, Mr Swire said:
"Yesterday I called in the Burmese Charge d'Affaires to the Foreign Office to discuss our serious concerns about the violence in Rakhine State and the casualties and displacement among Rohingya people. This follows My Right Honourable Friend the Foreign Secretary's meeting with Burma's Foreign Minister in New York in September, and my own meetings during the UN General Assembly. There is an urgent need for an end to the violence, for the Burmese authorities to ensure security in the region, and for humanitarian access."
Published 30 October 2012