Foreign Office Minister pays tribute to outgoing Governor of Helmand Province
Foreign Office Minister Baroness Warsi has paid tribute to the efforts of the outgoing Governor of Helmand Province Mohammad Gulab Mangal.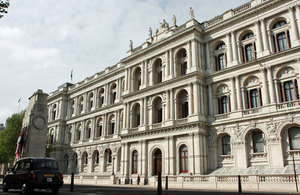 This follows the announcement by the Afghan Government of changes in a number of Governors as part of a wider reshuffle.
Speaking today Baroness Warsi said:
"The UK, particularly through the UK-led Provincial Reconstruction Team, has worked closely with Governor Mangal over the past four and a half years. Under his leadership there has been remarkable progress in Helmand. Governance has expanded into previously un-governed areas and its quality continues to improve. People can now access health centres, schools and other services that previously they could not. There is now greater freedom of movement, which has led to increasing trade and access to services. This has all made a huge difference to the lives of the people of Helmand.
"There is of course much more work to be done. We remain committed to supporting further progress in the province as well as in Afghanistan more broadly, and we look forward to working with the new Governor of Helmand, General Mohammad Naeem Baluch, to achieve this."
Published 21 September 2012