Foreign Office Minister meets with leading human rights lawyer
Foreign Office Minister for South Asia Alistair Burt met today with Asma Jahangir, leading human rights lawyer from Pakistan.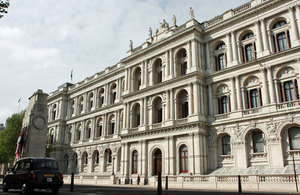 Mr Burt expressed his support for the critical work of Ms Jahangir, and others like her, who work hard to defend human rights. Human rights are a priority for the UK's engagement with Pakistan.
Mr Burt said that while progress has been made on human rights in the past year the UK still had concerns about human rights violations in Pakistan. We are concerned about the deterioration of security for NGO workers, and women in particular in FATA, Baluchistan, and in the rest of the country, and we condemn the recent targeted killings of NGO workers operating in Pakistan following recent events in Pakistan's border areas. A strong civil society is crucial for stability and democracy in Pakistan, especially ahead of the upcoming elections in Pakistan.
Published 5 July 2012