Foreign Office Minister meets with Afghan Women's Delegation
Foreign Office Minister Alistair Burt met with female Afghan members of civil society in London on 8 March.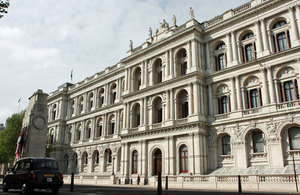 The Afghan women were visiting as part of a Foreign Office project, "Women in Governance", and met with Alistair Burt to discuss women's issues. You can see a video of his discussion with Governor Sarobi on his blog.
They also met with other non-governmental organisations and UK officials to discuss the role of women's networks in Afghanistan, building links with UK civil society organisations and exchanging ideas and best practice in effective lobbying techniques and advocacy strategy.
The women participated in International Women's Day events here in London such as the Women for Women 'On the Bridge' event, where Equalities Minister Lynne Featherstone gave a speech focussing on what the UK government is doing to help women in Afghanistan.
On 5-6 March, the NGO Equality for Peace and Democracy in partnership with Afghan Civil Society, the Ministry of Women's Affairs and the General Secretariat of Parliament, brought together Afghan female MPs with women from civil society, government, provincial councils, media and the private sector for two days of networking and workshops in Kabul.
The UK is fully committed to gender equality, and to doing everything it can to support and Afghan-led peace process. As part of its work to promote Afghan women's participation in governance, the UK has supported the Afghan Independent Election Commission's Gender Unit, as well as funding a project with the NGO Equality for Peace and Democracy to provide support to female parliamentary candidates.
Published 9 March 2011